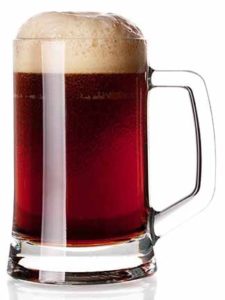 Briess Carabrown® Malt is probably the newest entry in this traditional English-style malt category. Briess introduced it several years ago as a seasonal Maltster's Reserve Series malt, and this year it's being made available year round (watch for the official announcement of that next month).
Brown malts have changed dramatically over the years. An interesting article about their rise, fall, and current uptick in popularity was written by Kristen England in the January/February 2009 issue of Brew Your Own magazine. Check it out.
Like other Brown Malts available today, of which there are only a handful, Briess Carabrown® Malt is roasted and non-enzymatic. But it differs in color and flavor from other Brown Malts because it was developed on the light side of the brown malt style in order to retain some residual sweetness while still delivering an assortment of lightly toasted flavors. The overall character of Carabrown® Malt is an exceptionally smooth and clean tasting malt that begins with a slightly sweet malty flavor before delivering an array of toasted flavors, then finishing clean and somewhat dry.
Bedford Brown Ale is an extract-grain beer that relies upon a healthy one-pound dose of Carabrown® Malt to help develop roasted, biscuity, nutty flavor. The Bedford yeast will result in a dry finish with a distinctively English ester profile. Happy brewing!
Bedford Brown Ale

Type: Ale
Style: Brown Ale
Batch Size: 5 gallons
Recipe Type: Extract with grain
Recipe Contributed By: Briess Technical Services Team
Ingredients
3.3 lbs—Briess CBW® Sparkling Amber LME
1 lb—Briess CBW® Pilsen Light DME
2 lbs—Briess Pale Ale Malt
1 lb—Briess Carabrown® iMalt
8 oz—Briess Carapils® Malt
4 oz—Briess Chocolate Malt
.5 oz—Nugget Hops (10% AA)—60 minute boil
.5 oz—Fuggle Hops (4% AA)—20 minute boil
1 oz—Fuggle Hops (4% AA)—1 minute boil
1 vial—WLP006 Bedford British Ale
Procedures
Steep grains in 150-158ºF water for 30 minutes
Remove grains
Bring to a boil
Remove from heat
Add liquid extract
Add first hop addition
Boil 40 minutes
Add second hop addition
Boil 19 minutes
Add final hop addition
Boil 1 miutes
Cool to 66ºF, oxygenate wort
Pitch 1 vial WLP006Bedford British Ale
Fermentation
Primary Fermentation: 2 weeks at 66ºF
Secondary Fermentation: 2 weeks
Fermentation Notes: Bottle condition for force carbonate
Stats
Original Gravity: 1.044
Final Gravity: 1.011
ABW: 3.0%
ABV: 3.8
IBU: 21
Color: 29º Lovibond