Let's raise that glass folks to helping build a house for a Greater Fox Cities Habitat for Humanity's family—remember, $3 of every beer purchased from the list below goes toward the goal of raising $36,000 for this worthy cause. What a great way to celebrate spring! Please share this blog far and wide and stop by the breweries we partnered with; four of five still have their tasty brews on tap (and a beer from another brewery listed below):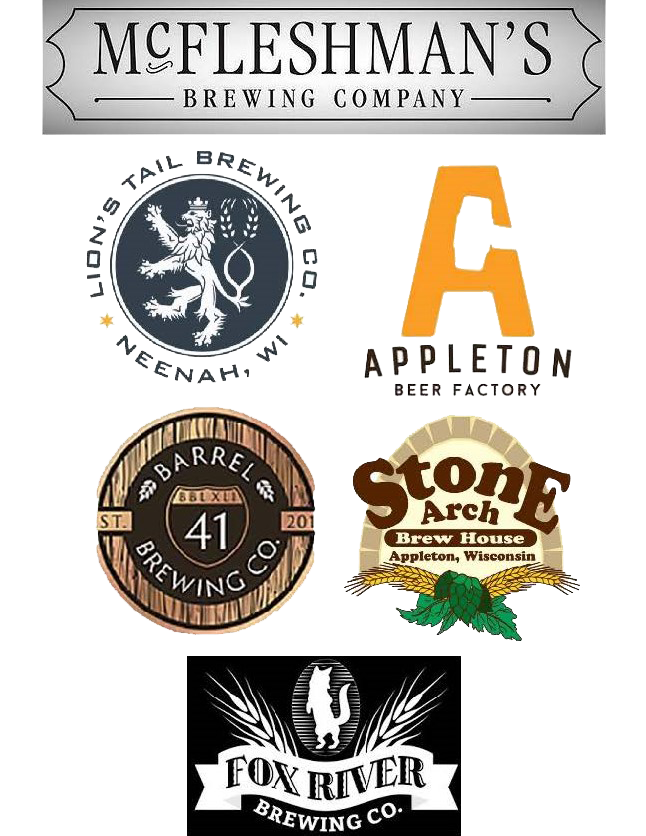 McFleshman's Brewing Co., Appleton.

Brew House Dunkelweizen: A thirst-quenching classic dark wheat made with German Weizen yeast. The result is a balance of flavors ranging from toast to clove to banana.

Lion's Tail Brewing Co., Neenah.

Rock the Block Oak-Aged Bock: This traditional Bock pours a deep amber with a creamy off-white head. Lagered for a smooth, clean finish, it's amazingly rich with big toasty malt flavors.

Stone Arch Brewpub, Appleton.

Cold-Steeped Milk Stout: **SOLD OUT** (HUZZAH!)

Barrel 41 Brewing Co., Neenah.

Built Berry Well Fruited Saison: A fresh and fruity beer, sure to be your first glimpse into warmer weather. Classic Saison qualities (pepper, lemon zest and a light crisp taste) with a blend of fresh fruit—raspberries and peach.

Fox River Brewing Co., Appleton.

Aframe Altbier: Well hopped and malty with brown/amber/red color. New Briess Dark Munich Malt 30L provides a toasted malty sweet flavor and aroma, as well as a rich amber color.

Appleton Beer Factory, Appleton.

Strong Foundations Strong Ale: A strong foundation of traditional Pale Malts and wheat, anchored with brown sugar and Belgian candy, gives this beer its amber color. Centennial and Willamette hops provide complexity and balance well with the malty backbone. Caramel, vanilla and biscuit tone down this big beer with a smooth and approachable body. Enjoy on nitrogen for a velvety pour.
Keep your eyes posted for an update on building, which is scheduled for September of this year!