Thanksgiving is typically a time for reminiscing and getting together with friends and family to share a harvest-time feast. Demonstrate your creative side and start a new tradition with these Pumpkin Rolls. The savory malt flavor is highlighted by pumpkin in these delicious, slightly sweet treats.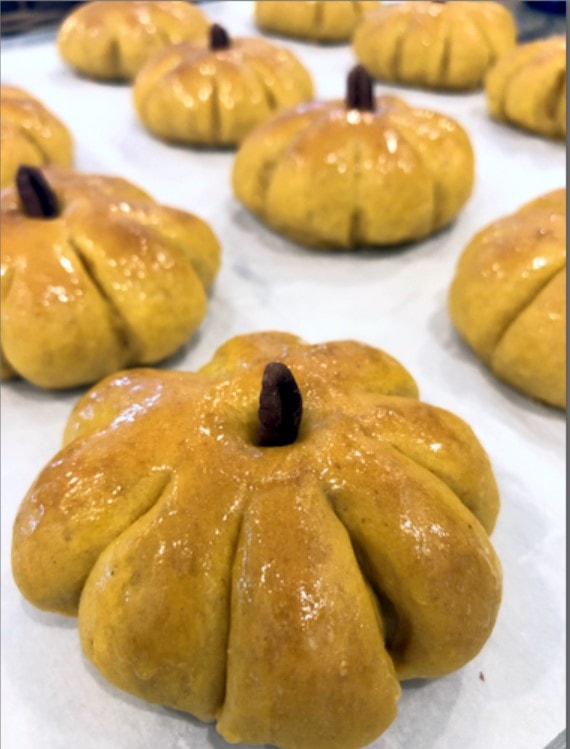 Ingredients (items in bold are Briess ingredients):

3/4 cup milk or non-dairy alternative (185g)
3/4 cup pumpkin puree (185g)
1/4 cup light brown sugar (55g)
2 TBSP Maltoferm® CR-451 #5746 (20g)
1/3 cup sugar (75g)
6 TBSP butter or non-dairy alternative (85g)
1 large egg or equivalent egg substitute (55g)
1 tsp salt (7g)
2, 1/2 oz packs yeast (16.8g)
1 tsp sugar for yeast (5g)
2 TBSP lukewarm water for yeast (32g)
5 cups all-purpose flour (720g)
30 pecan quarters for stems
2 TBSP White Grain Sorghum Extract 45DE (#6142) – optional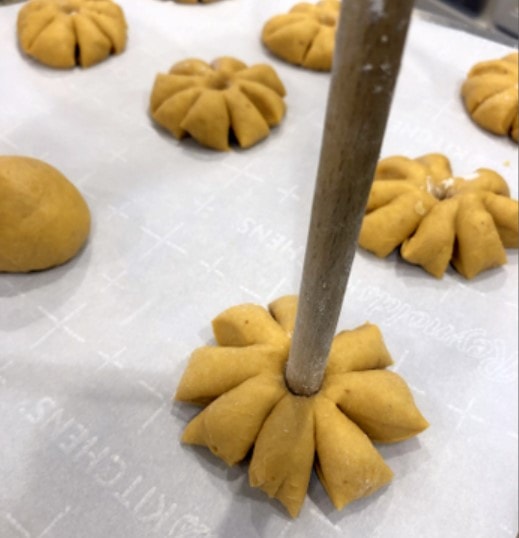 Directions:
Pour hot milk in a mixing bowl, add butter and stir to melt.
Mix Maltoferm® CR-451 #5746 with regular sugar to avoid clumping.
Add sugar + malt mix, brown sugar, pumpkin puree, and salt to the scalded milk and mix well.
In a small bowl, proof yeast in 2 TBSP lukewarm water with 1 tsp sugar. When foamy, add to pumpkin mixture, add egg and mix well.
Gradually add flour and mix with a wooden spoon until well combined. Dough will be sticky.
If using an electric mixer, attach a dough hook and beat the mixture until the dough pulls from the side of the bowl. The alternative is to knead by hand on a floured surface until dough is no longer sticky.
Form dough into a ball shape, place in a greased bowl and cover with cloth. Let rise in a warm place until it doubles in volume, about 1 hr.
Punch the dough to deflate and kneed it for a few seconds on a floured surface. Cut the dough in half. Cut each half into 15 pieces.
Roll each piece into a ball. Using a knife, make 8 cuts around the ball to mimic flower petals but leave the center uncut.
Poke the center of the flower-shaped dough with your finger or the end of a round wooden spatula (dip the end in flour) to make a hole for the stem (pecan piece) later. Repeat the procedure for all the dough pieces.
Place them 2" apart on a baking pan lined with parchment paper or baking mat. Let rise until doubled, about 45 min.
Preheat oven at 350°F for 20 min.
If the center indentation is not obvious, you can gently make the circle again, but be careful not to deflate the rolls.
Brush with egg wash if you wish.
Bake for 9-12 minutes until the top of the rolls are golden.
Brush the rolls with melted butter or diluted White Grain Sorghum Extract 45DE (#6142).
Insert pecan slices in the center of the pumpkin rolls to mimic the stem.
Remember, whatever shape you make…pumpkin🎃 or circle, the rolls will taste maltlicious!