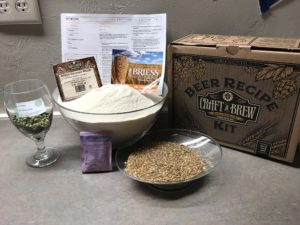 Are you looking for a very straight forward 5 gallon Hefeweizen, that brews with hints of citrus, banana, and clove? Well, one of our regional distributors — Craft-A-Brew (www.craftabrew.com) — has a easy homebrew kit for you!
This particular kit uses Briess Carapils® and CBW® DME Bavarian Wheat as the main components that set homebrewers up for a successful and delicious brew.
The recipe is for 5 U.S. gallons (19L).
OG: 1.043
FG:

1.006

ABV: 4.5%
IBU: 20
COLOR(SRM): 3
QUANTITY/INGREDIENTS
8 oz. Briess Carapils

®

/Mash Grain
5 lbs/Briess CBW

®

Bavarian Wheat Dry Malt Extract
2 oz. Tettnang (Bittering, Aroma)
11.5g Fermentis Dry Yeast WB-06-1 packet
(1) Grain Steeping Bag
BREWING PROCEDURE
Pour at least 2.5 gallons of water in to the brew vessel and heat until it reaches 155°F.
While water is heating, place specialty grains in the grain bag and tie off the top. Once water reaches 155°F, steep the grains for 20 minutes while maintaining the temperature. Remove bag and discard.
Bring to a boil.
Turn off and slowly stir in the Briess CBW® Bavarian Wheat Dry Malt Extract. Do not let it clump or stick to the bottom. Once all of the malt extract is completely dissolved, turn the heat up to medium-high and bring the wort up to a slow rolling boil.
Add 1/2 of the Tettnang Hops (Bittering) and start timing for a 60 minute boil.
Add the other 1/2 of the Tettnang Hops (Aroma) 2 minutes before the end of the boil.
After the 60-minute boil, turn off burner and remove from brew vessel.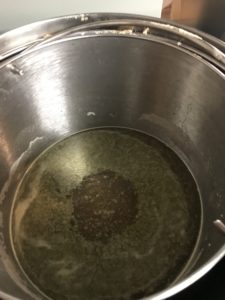 Cool down the wort as quickly as possible by placing it in a ice bath. Temperature must be below 75°F before it is safe for yeast. Put a lid on the brew vessel while it cools down to avoid contamination.
While wort is cooling, sanitize the fermenting equipment (fermemter, lid, rubber stopper, thermometer, airlock, etc.) along with the yeast pack and a pair of scissors.
Once wort cools down to 75°F or lower, transfer to the fermenter. Leave residue in the bottom of brew vessel. You may have to use a funnel at this point if your fermenter is a carboy.
If necessary, add more cold water for a volume of 5 gallons.
Aerate the wort by sealing the fermenter and rocking back and forth for a few minutes.
Use sanitized scissors to open the yeast pack and add yeast to the wort.
Seal your fermenter. Add water to the airlock (until it reaches the fill line) and insert into the stopper.
Let your beer ferment for 2 weeks in a cool (60-75°F) dark place.
FERMENTATION
Fermentation activity will last between 12-72 hours after adding the yeast. A krausen (kroy-ZEN) layer will develop on the top layer during fermentation. After 72 hours, fermentation will slow down, the krausen layer will subside and activity will be minimal the remainder of these 2 weeks.
BOTTLE/KEG DAY
Sanitize siphoning and bottling/kegging equipment.
If bottling, prepare 2/3 cup of table sugar and 2 cups of water to act as the priming solution. Bring to a boil then let cool down.
Once cooled, pour into bottling bucket.
Mix beer and priming sugar solution; fill and cap bottles.
When kegging, fill directly into the keg.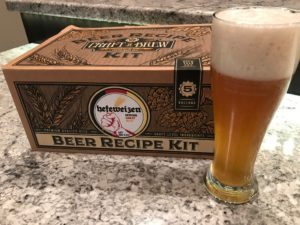 NEXT 2 WEEKS: CONDITIONING
Condition bottles in a room temperature, dark place. After 2 weeks, bottles can be refrigerated.
With kegs

—

slowly pressurize the keg, building up to preferred PSI pressure

—

and enjoy fresh from the tap.
BREW COMPANION
Always keep yourself in good company while homebrewing. (Just don't let your friendly K-9 eat any hops!)
Here is my brew companion, Barley 🙂 Cheers!