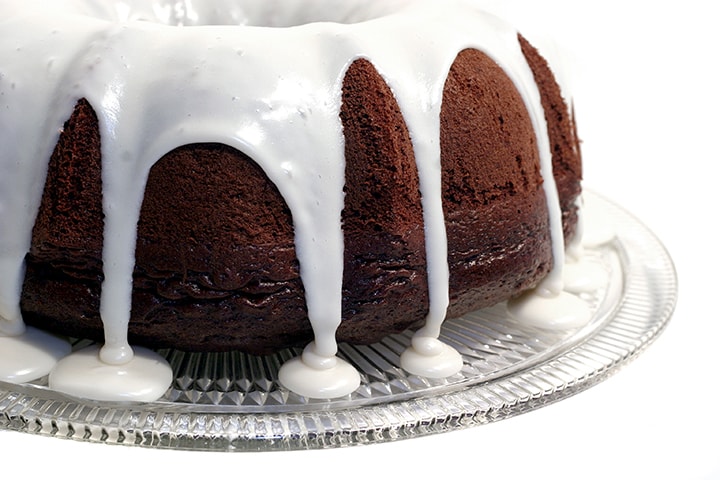 Does your sweetheart have a soft spot for a decadently delicious Chocolate Stout? Then surprise your sweetie this Valentine's Day with these sweet Chocolate Malt treats.
Made with Briess Chocolate Malt—a favorite malt for Chocolate Stout beers—our Briess Chocolate Malt Cakes (adorable as a Bundt, mini Bundt or cupcakes) are amazing when topped with Briess Malt Glaze! Serve with your Valentine's favorite Chocolate Stout Beer and it'll be a Valentine's Day to remember 🙂
We add creamy, malty flavor and mouthfeel to the glaze with Briess Malted Milk Powder. Did you know that Briess produces Malted Milk Powder from our own malt? And Briess Malt is made with barley grown just for Briess. That's how we ensure top quality From Seed to Specialty™.
Briess Chocolate Malt Cake Ingredients
Volume
Grams
Unsweetened Cocoa
1/3 cup
30
Briess Chocolate Malt (finely milled in a
standard coffee grinder)
1/3 cup
50
All-Purpose Flour
1-3/4 cup
300
Light Brown Sugar
1 cup
190

Baking Powder
1 tsp.
5
Briess Malted Milk Powder
1/4 cup
35
Salt
3/4 tsp.
6
Baking soda
1 tsp.
6
Eggs
2 lg.
90
Milk
3/4 cup
180
Buttermilk
1/4 cup
75
Vanilla Extract
2 tsp.
8
Cider Vinegar
2 tsp.
8
Vegetable Oil
1/3 cup
65
| Malt Glaze Ingredients | Volume | Grams |
| --- | --- | --- |
| Confectioners Sugar | 1/2 cup | 55 |
| Briess Malted Milk Powder | 1/4 cup | 35 |
| Milk | 3 tbsp. | 30 |
Directions
Preheat oven to 350 degrees.
Lightly grease mini Bundt or cupcake pans.
In large bowl, whisk together dry ingredients. Set aside.
In medium bowl, whisk together liquid ingredients.
Add wet ingredients to dry and beat batter just enough so that everything is well-combined. Do not overmix.
Spoon batter into pans 3/4 filled.
Bake 12 to 15 minutes.
Remove to cooling rack and remove from pans shortly thereafter.
Cool completely, then drizzle with malt glaze.