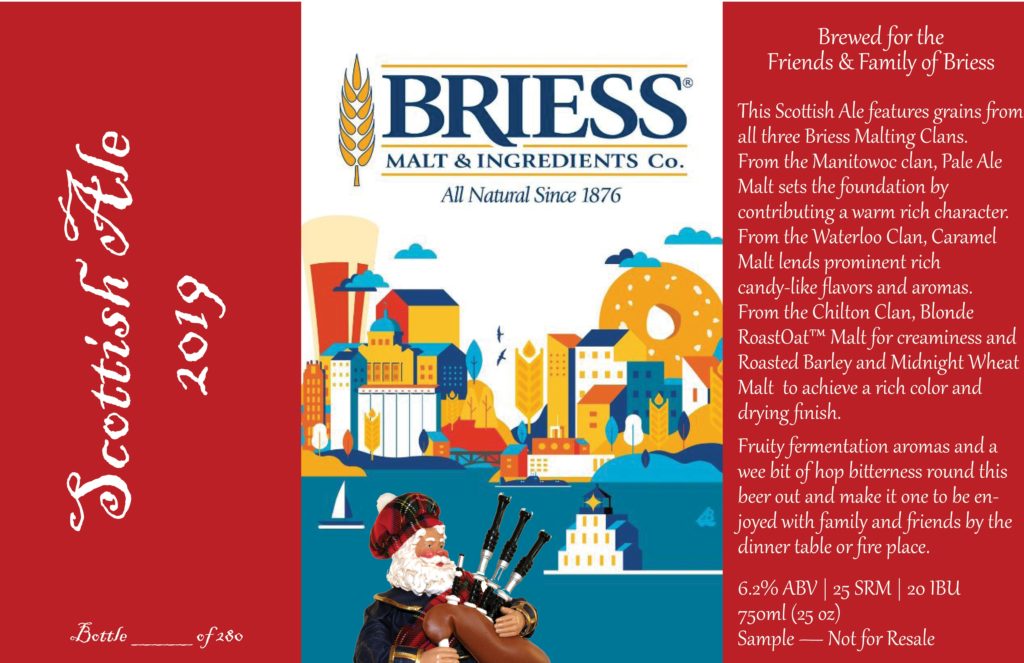 Holidays can be stressful, don't bottle your feelings — bottle beer! We on the Technical Services team know how to shake the holiday blues with holiday brews 🙂 Each year, we brew beer with Briess specialty malts to share with employees and friends of Briess; we keep the family in "family owned." This year's Scottish Ale was hand bottled, labeled, and numbered and by the way is delicious! If you are adventurous, try making it yourself with the recipe below or brainstorm by checking out our other products and recipes and create your own customized winter brew.
Briess Scottish Ale 2019
59 lbs/bbl Pale Ale Malt
3.0 lbs/bbl Caramel Malt 60L
7.0 lbs/bbl Blonde RoastOat® Malt
0.8 lbs/bbl Roasted Barley
0.3 lbs/bbl Midnight Wheat Malt
6.5 oz/bbl East Kent Golding (5.0% AA) — 60 min boil
1.0 oz/bbl East Kent Golding (5.0% AA) — 20 min boil
Scottish Ale Yeast
OG — 1.064
FG — 1.017
IBU — 20
ABV — 6.2
This year was Scott's first year as the pilot brewery operator, but Scott Heimerl is no newbie, he had experience both on the production floor and in the lab before joining our tech services team. Don't be fooled by those reindeer antlers, he's serious about brewing!
In this photo, Jordon Geurts is doing all the heavy lifting (or is the box empty?!) and he does a lot of the heavy lifting for our malt variety and sensory program as well. Jordon has become the maltster behind our pilot malting program.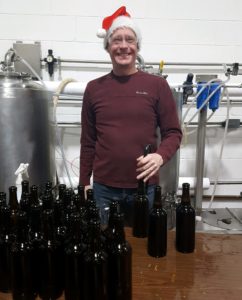 Already emptied bottles or needing to be filled? We'll let you decide 😉 Bob Hansen is Chief Nerd. Or more formally, Manager of Technical Services. Bob has been a part of the now-traditional Briess Holiday Beer since its inception in 2006, that's a lot of beer bringing holiday cheer!
Dan, Dan, the bottling man if he can't bottle it, no one can! And we're serious, ask Dan Bies to make anything and see if he can't produce a great bottle — and we're not just talking beer; he also researches and develops extracts and syrups.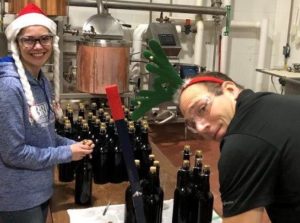 As Quality Assurance Technical Associate, I twist cork cages as tightly as my Mrs. Clause braids! I use a specific tool for the job, but seriously — any Allen wrench will do.
Not pictured, but an ever-important part of the Technical Services team, Wiwid Paramita is whipping up something tasty, maybe even to pair with our beer. You can find her buzzing around her pilot kitchen or enchanting customers at trade shows.
We hope all our employees love our beer as much as we love making it for them!
Happy Holidays and Cheers!
The Technical Services Team