The baby Peregrine falcons have hatched! On May 20, we learned that we have four healthy-looking youngsters in our Manitowoc nesting box. Unfortunately, our falcon cam is still out of commission, but we are working diligently to find a resolution that will not disturb the nest.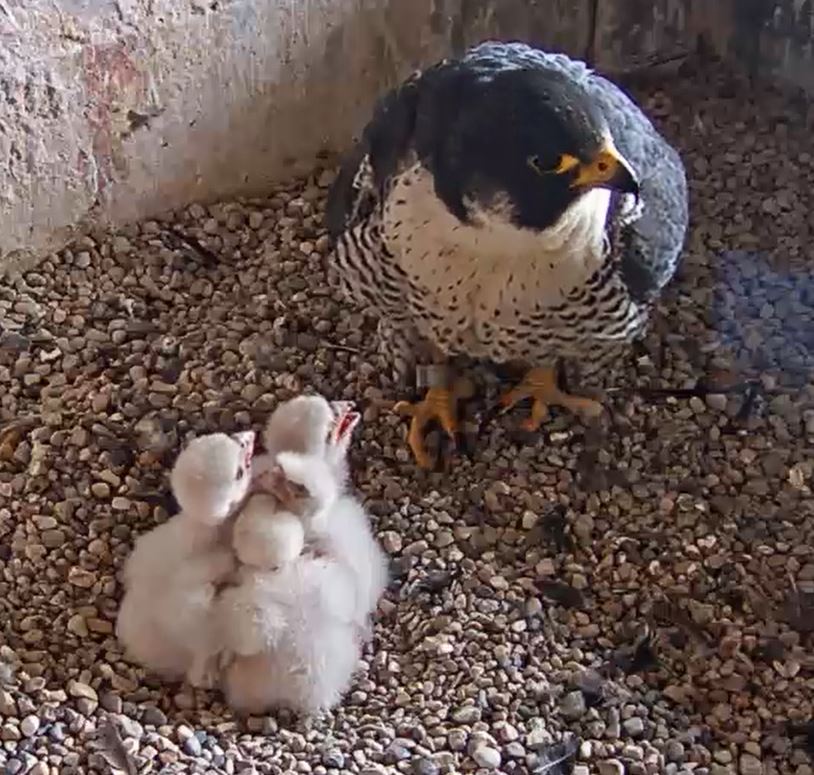 When checking for the baby falcons (eyasses), our long-time plant manager, Dave Luckow, did so from a safe distance — through a peek hole in the nesting box. The new mama was feeding the babies at the time and all looked healthy and well. Our falcon expert, Greg Septon, provided details about our location, "since 1998 when you had your first successful nest, there has been a successful nest every year since (23 years). Your grand total of young produced (including this year's) now stands at 76 or an average of 3.3 young/year." We seem to have some prime falcon real estate at the top of our grain elevator in Manitowoc, Wisconsin. According to Greg, now that this new female has had a successful nest, she (and possibly Bartell) will likely return for years to come!
As many of you know, our newly established falcon pair had four eggs atop our grain elevator. Returning dad, Bartell, took his fair share of turns keeping the eggs warm and our new un-banded female of course did the same. To give everyone a chance to win Briess swag and malted milk balls, we posted a naming contest to Facebook and Twitter. Those who posted suggestions prior to May 11 will have a chance to win Briess malted milk balls and swag. Stay tuned to Facebook and Twitter as winners will be announced within the next week.
Our falcon expert, Greg Septon, plans to take all the necessary precautions and band the falcons without any spectators this year and has to do so before they spread their wings and take their chances with flying. We'll keep you posted with another blog, Facebook & Twitter, and hopefully some images! When our camera is up and running, we'll post to let you know and you can watch them grow via our livestream!