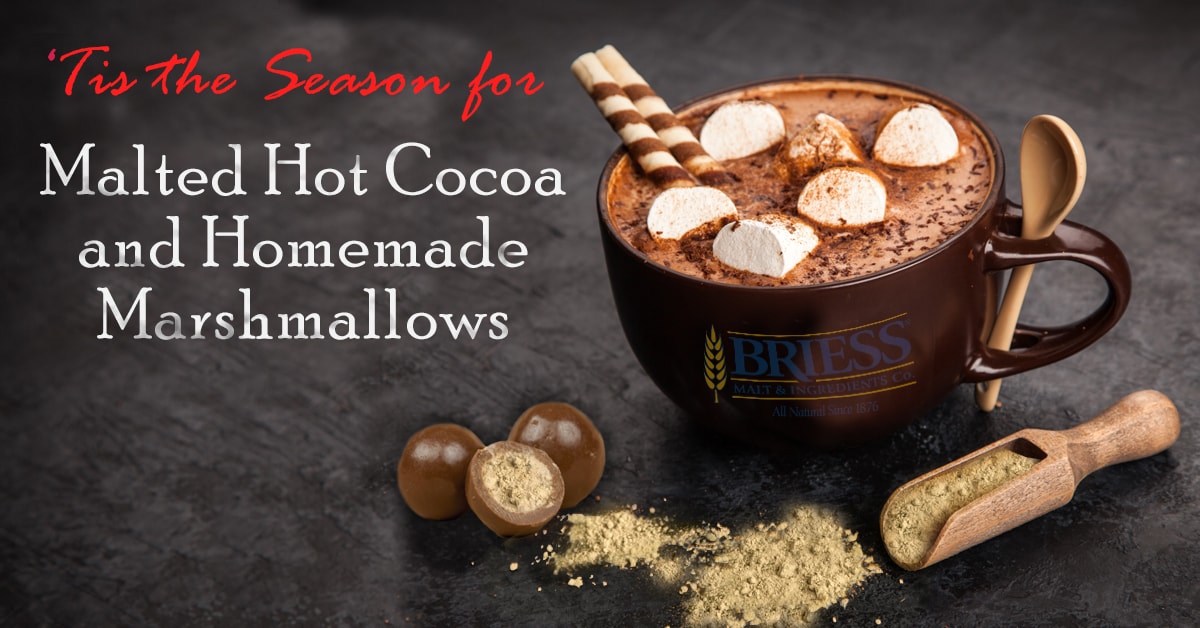 As the temperatures begin to dip below freezing and forecasts of snow appear, a hot cup of cocoa is the perfect cup of cheer. A delicious twist on this holiday classic is to simply add a little malted milk powder to give it a creamy, rich malty flavor. You can top off this wintery treat with some homemade marshmallows. Most folks are not accustomed to this homemade delight, but once they are made, you may not want to have them any other way. The best part is, these homemade marshmallows can stay fresh up to three weeks, so you can store them for many malted hot cocoas to come.
Malted Hot Cocoa
| Ingredient | Volume | Grams | Percentage |
| --- | --- | --- | --- |
| Unsweetened Cocoa Powder | 1 tbsp. | 14.3 | 4.26% |
| Granulated Sugar | 2 tbsp. | 28.6 | 9.53% |
| Malted Milk Powder* | 2 tbsp. | 28.6 | 9.53% |
| Table salt | 1 Pinch | 1.79 | 0.60% |
| Water or Milk | 1 Cup | 226.71 | 76.08% |
Heat 1 cup of water or milk to below boiling temperatures, between 170°F and 185°F. Use a suitable kettle, not an electric kettle, or use a saucepan.
Put one tablespoon of cocoa powder, two tablespoons of sugar, two tablespoons of Briess Malted Milk Powder and a pinch of salt into a mug or bowl and mix.
Once the water or milk is about to boil (175°F), fill the mug with the hot liquid.
Stir together until the cocoa mixture has dissolved. Over time the cocoa starts to sink to the bottom of the mug, so re-stir or stir well for better flavor.
Enjoy.
*Suggested Malted Milk Powders: King Arthur Malted Milk Powder or Carnation Malted Milk Powder.
You can also make homemade tapioca marshmallows to add to your Malted Hot Cocoa.
Homemade Malted Marshmallows
| Ingredient | Volume | Grams | Percentage |
| --- | --- | --- | --- |
| Unflavored Gelatin | 3 packages | 22 | 2% |
| Ice Cold Water, Divided | 1 cup | 334 | 30% |
| Granulated Sugar | 1 1/2 cups(12oz) | 347 | 31% |
| Your Choice of Briess Tapioca 42DE Extract or CBW® Pure Malt Extract** | 1 cup | 330 | 30% |
| Kosher Salt | 1/4 tsp. | 1.6 | 0.5% |
| Vanilla Extract | 1 tsp. | 5 | 0.5% |
| Confectioners' Sugar | 1/4 cup | 31.5 | 3% |
| Cornstarch | 1/4 cup | 31.5 | 3% |
| Nonstick Spray | | | |
| | | 1102.6 | 1.00 |
**For this recipe you can get creative and use your favorite choice of Briess CBW® Pure Malt Extract including: CBW® Pilsen Light, CBW® Golden Light, CBW® Pale Ale, CBW® Munich, or CBW® Sparkling Amber. When using the CBW® Pure Malt Extract, marshmallows will appear light gold to soft tan in color and offer a creamy, slightly toasted, malt flavor. They have similar sugar profiles and contribute new flavors and colors. Briess Tapioca 42DE Extract will create a bright white, fluffy marshmallow similar to the classic marshmallows you are use to.
Place the gelatin into the bowl of a stand mixer along with 1/2 cup of the water. Have the whisk attachment standing by.
In a small saucepan combine the remaining 1/2 cup water, granulated sugar, choice of CBW® Pure Malt Extract* and salt. Place over medium-high heat, cover and allow to cook for 3 to 4 minutes.
Uncover, clip a candy thermometer onto the side of the pan and continue to cook until the mixture reaches 240°F, approximately 7 to 8 minutes.
Once the mixture reaches this temperature, immediately remove from the heat.
Turn the mixer on low speed and, while running, slowly pour the sugar syrup down the side of the bowl into the gelatin mixture. Once you have added all the syrup, increase the speed to high.
Continue to whip until the mixture becomes very thick and is lukewarm, approximately 12 to 15 minutes. Add the vanilla during the last minute of whipping.
While the mixture is whipping prepare the pans as follows.
Combine the confectioners' sugar and cornstarch in a small bowl. Lightly spray a 13 by 9-inch metal baking pan with nonstick cooking spray.
Add the sugar and cornstarch mixture and move around to completely coat the bottom and sides of the pan. Return the remaining mixture to the bowl for later use.
When ready, pour the mixture into the prepared pan, using a lightly oiled spatula for spreading evenly into the pan.
Dust the top with enough of the remaining sugar and cornstarch mixture to lightly cover Reserve the rest for later.
Allow the marshmallows to sit uncovered for at least 4 hours and up to overnight.
Turn the marshmallows out onto a cutting board and cut into small squares (size of mini marshmallows) using a pizza wheel dusted with the confectioners' sugar mixture.
After cutting, lightly dust all sides of marshmallow with the remaining mixture, using additional if needed.
Store in an airtight container for up to three weeks.