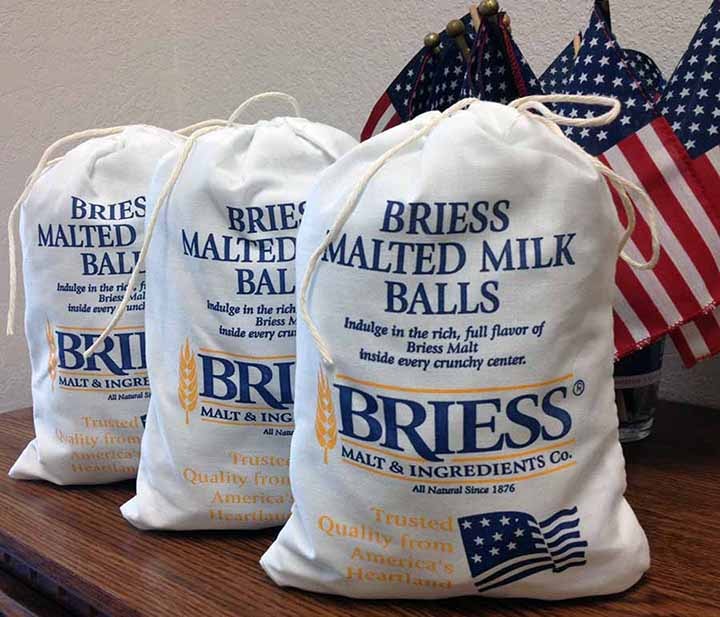 Have you ever received a bag of Briess malted milk balls? If so, you're familiar with the 55 or so double-coated malty treats inside. They're custom-produced from our own malted milk powder and, for about 20 years, these well-recognized bags have been a signature Briess calling card to American craft brewers. But you probably weren't aware that, for the past 12 years, each bag has served another purpose—helping prepare individuals with intellectual and developmental disabilities for employment in our community in and around Chilton, WI.
Summer student employees used to fill the bags. But a nearby organization, the New Hope Center, had the capability to safely handle food and was seeking tasks for its employment skills center, so Briess moved the task over there. The NHC is a community-based, non-profit organization just blocks from Briess in Chilton, WI. Its mission is to inspire freedom and independence in the lives of people with disabilities, which it does by providing meaningful and quality services including residential, day programs, transportation and community employment. About 150 post-high school age individuals are served annually.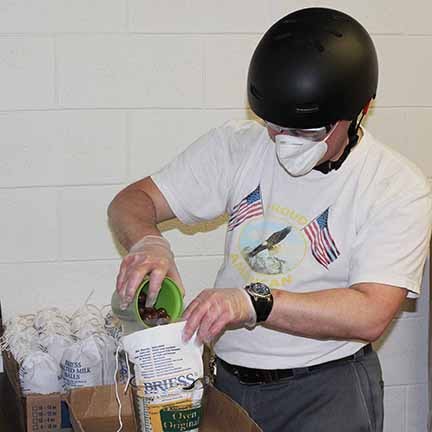 NHC Supported Employment Manager Amy Prange told us that placing a client in community employment begins with job creation. "A client may request a certain type of work, maybe in a restaurant," she explained. SE case managers then seek those types of jobs with potential employers, at the same time seeking additional job opportunities for other clients.
Then the process of preparing a client for a job begins. That frequently begins in the NHC's Commercial Fulfillment Skills Center.
"The goal of the Skills Center is to prepare individuals for community employment," said NHC Ops Director Joe Weidensee. The Skills Center offers packaging, mailing and assembly services to area businesses like Briess. Filling bags with malted milk balls, packaging metal parts and screen-printing T-shirts are among the types of tasks used to teach job skills to clients. Skills like following procedures and tracking progress to accurately weighing and measuring all help prepare clients for employment within the community.
"Through the resources of our skill center, individuals seeking to become more independent by learning lifelong skills gain the work experience they need to achieve their goals and transition into community employment," said NHC's Development & Marketing Director Kymberley Pekrul.
The program's success is in the numbers. "At the present time five clients who have worked on the malted milk balls now work in the community," advised Weidensee.
"In addition we have about 15 long-term placements," said Prange, "with another 10 in active job development. These individuals work in all types of businesses. We have one client working in a restaurant, another files for Human Services, another performs janitorial services at the tech school and one man is mowing lawn and handling ground maintenance for a local church."
Job training doesn't stop once a client leaves the Skills Center for community employment. Frequently it continues with onsite job coaching from case managers. "We've helped make donuts during the 1-6 am shift at a bakery. And, we used to keep a communal pair of farm boots for our job coaches when one of our clients milked cows. We do whatever it takes," she continued.
In addition to providing employment for the Skills Center, Briess also provides community employment. Currently four NHC clients work in Briess production facilities, including long-term employee Jamie who performs a variety of tasks at one of the company's grain processing plants.
Plant Manager Marty McIntire said that Jamie has worked there for a long time. "He's dedicated and dependable and pleasant to work with." Jamie started working in the plant 14 years ago and fits right in with his co-workers, Marty said. "He's flexible and helps out wherever he's needed. The guys like working with him because he's easy to get along with and is a good worker."
"Our clients just love to work," Kymberley told us. "To them, part of having a job is being just like everyone else. It gives them a sense of pride and acceptance. Employers benefit, too. They get dedicated employees who take pride in their jobs and have been given an opportunity to be part of and give back to their communities."
Briess Sales & Marketing VIP Bob O'Connell said it's important to Briess to give back to the community by supporting the NHC. "Besides being able to employ more people from our local community, we take great pride in knowing that we are able to be part of the skills development program at the New Hope Center, and are able to be an important part of their growing program".