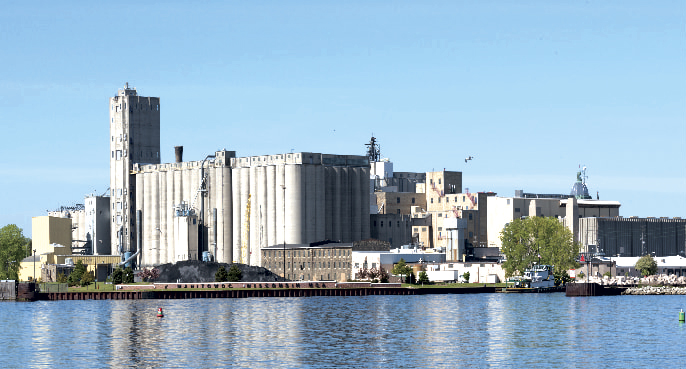 Briess' malt plant is located in Manitowoc, Wisconsin on a 22-acre campus along the Lake Michigan shoreline. For more than 50 years the campus has included a 10-story marine tower along the Manitowoc River near where it empties into Lake Michigan. The marine tower is linked to the malt plant via an underground tunnel that's three blocks long, which provides efficient movement upon arrival. Before the Manitowoc facility became part of our family company, we used rail and truck for our transportation needs. Now, we are excited to be able to use the maritime delivery methods for which our Manitowoc facility is known!
We engaged our internal experts on purchasing, transportation, and quality to make the arrangements.
The City of Manitowoc has a long history connected to international shipping and the shipbuilding industry. During World War II there were 28 submarines built in the city, an effort supported by 7,000 hard-working men and women laboring around the clock 365 days a year. Across the river from Briess' marine tower is the Maritime Museum, where the U.S.S. Cobia submarine from WWII is permanently parked in the water. Manitowoc's high school uses the nickname "Shipbuilders", and local residents can do their banking at Shipbuilders Credit Union.
Local leaders are excited about the opportunity to enhance the city's longstanding reputation as a major port on Lake Michigan's western shore with the reactivation of Briess' marine tower.
During the second half of April, our ship really will come in! The 650' ship will be docked for about 30 hours while the grain is being unloaded. It will be a sight to see in its short-term parking spot and will remind all of us about the rich history of shipping on the Great Lakes.
Now that our capability to accept raw material over the water is being reestablished, it provides another path to supply our malting facility. This further strengthens Briess' supply chain and our ability to meet growing demand from our customers in craft beer and food. After all, our Manitowoc site has over 150 grain silos, and we're always exploring new ways to keep them full!