Do you have a special brew that you take along with you on a certain hike or when out and about in nature? Send your images and a couple sentences highlighting your excursions to Melissa.Mosher@Briess.com and your brew and view could be included in our next blog. We want to see brews and views from across the country…not just here in Wisconsin — although we do have a very fine assortment of both in our great state!
With the fall season and scenery upon us, we thought it would be cool (literally) to highlight some of our favorite outdoor activities and brews that accompany us. The scents and landscapes can bring out the flavors of beer and give us a 360° sensory experience. An Octoberfest can go perfectly with a woodland hike among the falling leaves….or how about an IPA after meandering along the path of a frothy river? Check out the brews and views and let us know how you get your 360° brew with a view on! What's in your backpack?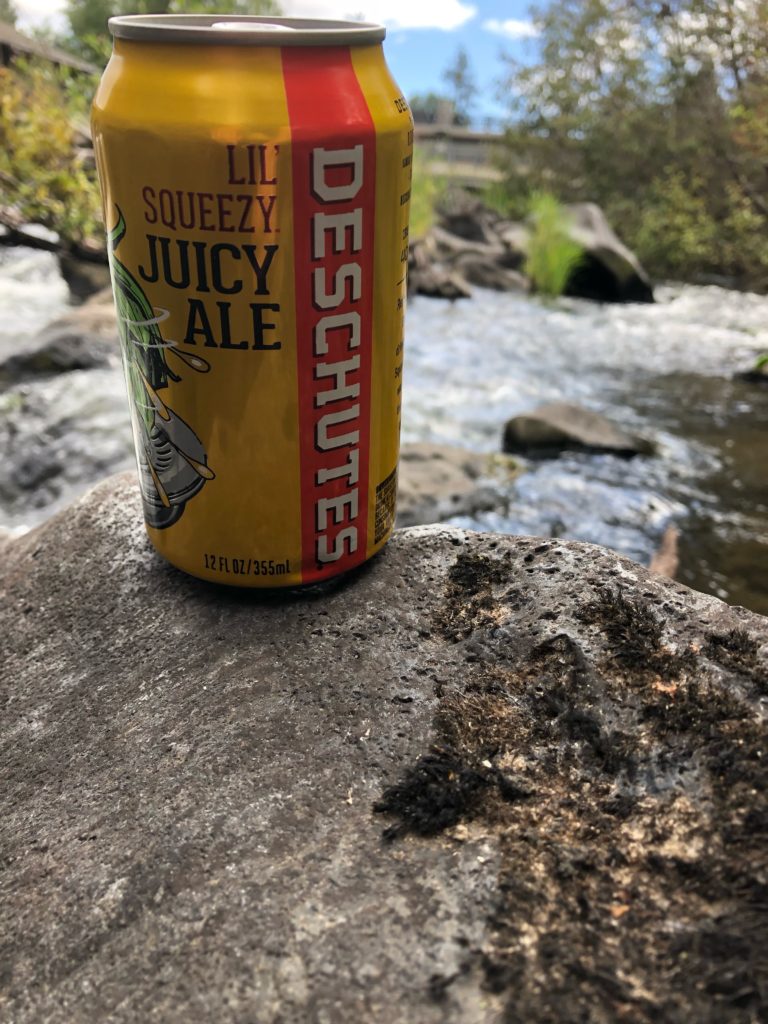 Our Brew West Division Manager, Michael Forncrook brought along a Deschutes Lil' Squeezy Juicy Ale for his Central Oregon Riley Ranch Trails hike — along none other than the Deschutes River (see above). The trail was a four-mile loop northwest of downtown Bend, not too crowded and perfect for a beginner. Per Michael, on this warm but breezy mid-day excursion, the Citrus and Tangerine notes flowed well with the malt, biscuit, and honey flavors — it was a perfect way to end a great day of hiking!
Okay, we have a lot of Octoberfest images to share…but it is October and it just wouldn't be right to highlight them in November. First up (and in no particular order) is Central Waters Octoberfest Lager. This Märzen sits lightly in your mouth with dark toastiness and a hint of hops. A caramel and roasted peanut aroma comes from the lacy foam as you relax and take in the view. Lakeside colors courtesy of the Upper Peninsula of Michigan near the Michigamme Reservoir.
Next we have Staghorn from New Glarus as pictured below. The beautiful amber hues of this Bavarian Octoberfest match the fall colors and the crisp finish is a welcomed accompaniment to the autumn air. This brew is best consumed in a heaping pile of fallen leaves…or at least near one. These leaves can be found when hiking in the woods north of Crystal Falls in the U.P. It is a bit of a hiker's paradise.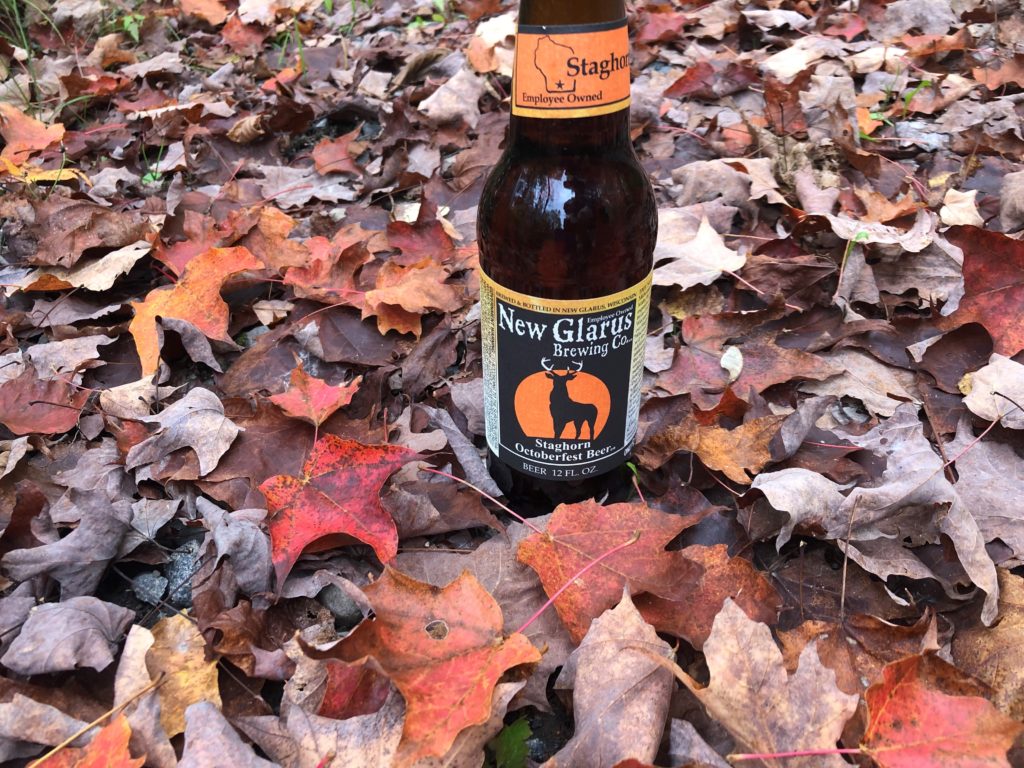 Bell's Octoberfest is fermented for a full six weeks to meld the lightly toasted flavor with just a smidge of sweetness. As pictured in its native habitat of Michigan, it's a great way to bask in the glory of autumn. Almond cookies and berries would pair well while basking…but we recommend you try the combination away from bear country or out in the middle of the lake 🙂 Thanks to our Brew Central Division Manager Penny Pickart for the Central Waters, Bells, & New Glarus images with matching scenery!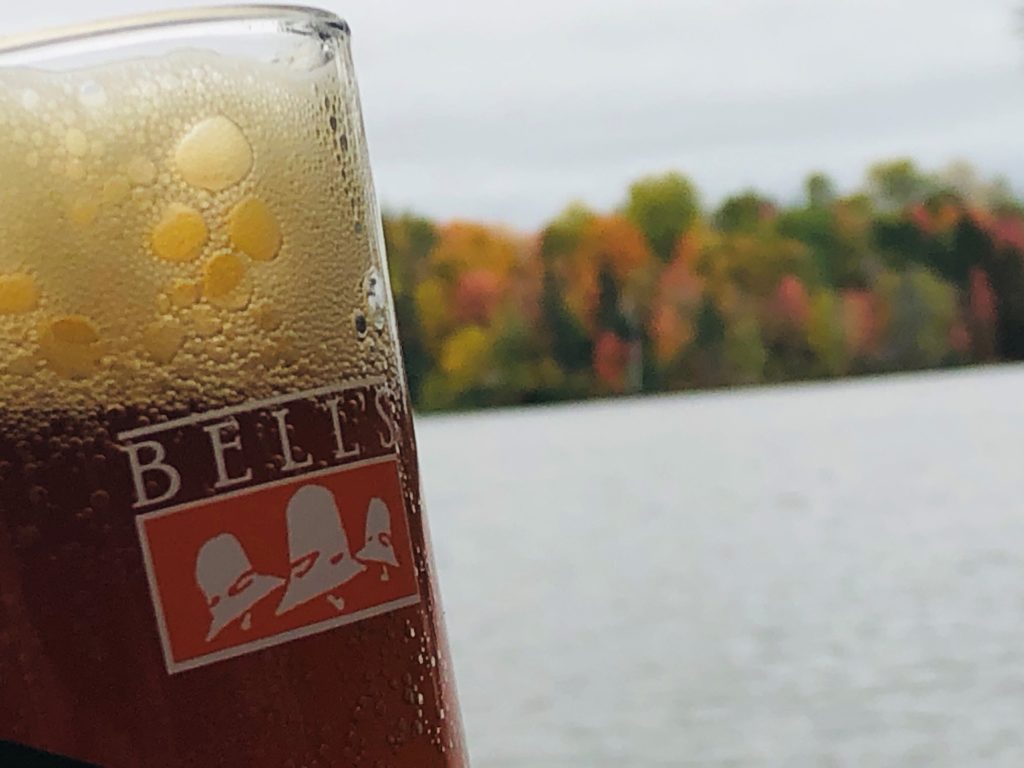 Although you cannot tell from the can pictured below, O'so Brewing's classic German Märzen is a coppery red color. Notes of caramel, bread, and Vienna as well as Munic malt offer a dry finish fit for taking in a sunset over the water. Admittedly, this was more of a scenic turnout rather than a hike, but it was good timing to take in the view over Lake Wissota.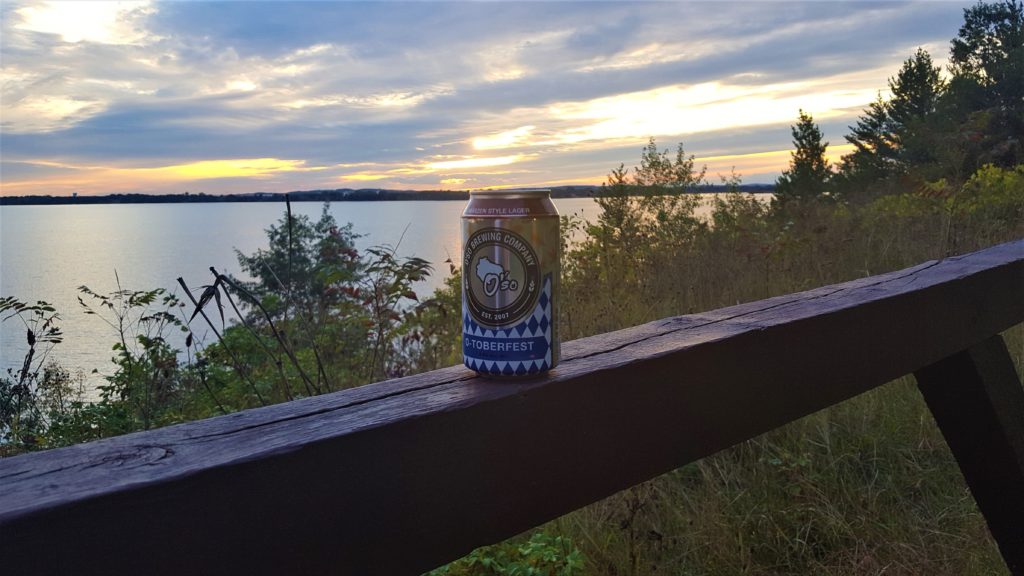 Stay tuned for November's edition, which could feature your favorite outdoor adventure and accompanying brew! Please send images and copy to Melissa.Mosher@Briess.com by no later than November 1, 2019 for consideration in our next blog.