Formulation
This stout was formulated to be very approachable and low ABV, with balanced dark caramel and roasted coffee flavors allowing for prolonged consumption. It's finished with a Nitrogen/Carbon Dioxide gas blend to create a beautiful pour and smooth mouthfeel when dispensed through a sparkler faucet.
The base is Briess' Synergy Select Pilsen Malt, which is known for being clean, sweet, and mildly malty. It's neither grassy nor biscuity and allows the bold yet nuanced flavors of the specialty malts to be forefront. The main flavoring malts are Extra Special Malt which contributes toasted marshmallow, toast, mild coffee, and prune flavors, and Chocolate Malt which imparts rich roasted coffee and cocoa flavors. Additionally, Briess' Midnight Wheat Malt was used to shoulder the bulk of the color load; it has extremely low bitterness/astringency and contributes a smooth-roast finish.
Recipe
| INGREDIENTS | PER BBL @ 1.036 | PER 5-GALLON |
| --- | --- | --- |
| Briess Synergy Select Pilsen Malt | 82.4% | 5.5# |
| Briess Extra Special Malt | 10.0% | 10.7oz |
| Briess Chocolate Malt | 5.3% | 5.7oz |
| Briess Midnight Wheat Malt | 2.4% | 2.5oz |
| East Kent Golding Hops (6.0%AA), 60min boil | 6.5oz | 1oz |
| Irish Ale Yeast | as suggested by manufacturer | |
OG 1.036, FG 1.008, SRM 45, IBU 25, ABV 3.5%, Step mashed 30min at 144 and 157°F
Finishing
The beer was nitrogenated using a 70/30 blend (%Nitrogen/%CO2) by violently agitating (Nitrogen is very difficult to get into solution) a 40°F keg at 40psi. When poured through a sparkler faucet this beer exhibits a dramatic foaming "waterfall" effect made up of very small bubbles that give an off-white creamy head.
Dry Irish Stout fans know that the Nitrogen release in a properly tapped beer causes a beautiful cascade of bubbles that is often described as waterfall-like. It's a wonderful visual experience that is certainly part of the beauty of this style. What you may not realize is that the color of the beer has a substantial impact on this phenomenon. To maximize the experience, it is necessary to make the beer dark enough to create a stark contrast between the cream-colored rising bubbles and the dark liquid. But if a beer is too dark, light will not penetrate the beer as deeply and the observer experiences a shorter and less dramatic waterfall. This effect is demonstrated below.
Experimentation
Three experimental variations of a similar recipe were created with differing inclusion rates of Midnight Wheat to create beers with different SRMs. The preferred and experimental beers had the following 5-gallon usage rates for Midnight Wheat:
35 SRM – 0.5oz
45 SRM – 2.5oz (preferred)
70 SRM – 7.5oz
105 SRM – 14.5oz
Here are the three beers immediately after pouring (all were poured at the same time, with similar vigor). The waterfalling bubbles in the lighter variant are more apparent than in the darker brew.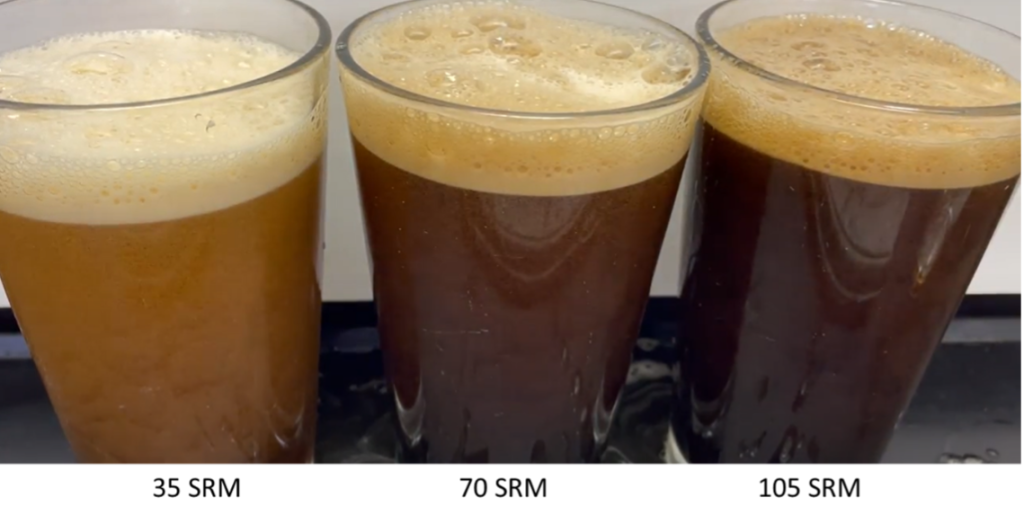 Here is the same beer 20 seconds after pouring. The waterfall is still easily observable in the lighter beer and nearly absent in the darker.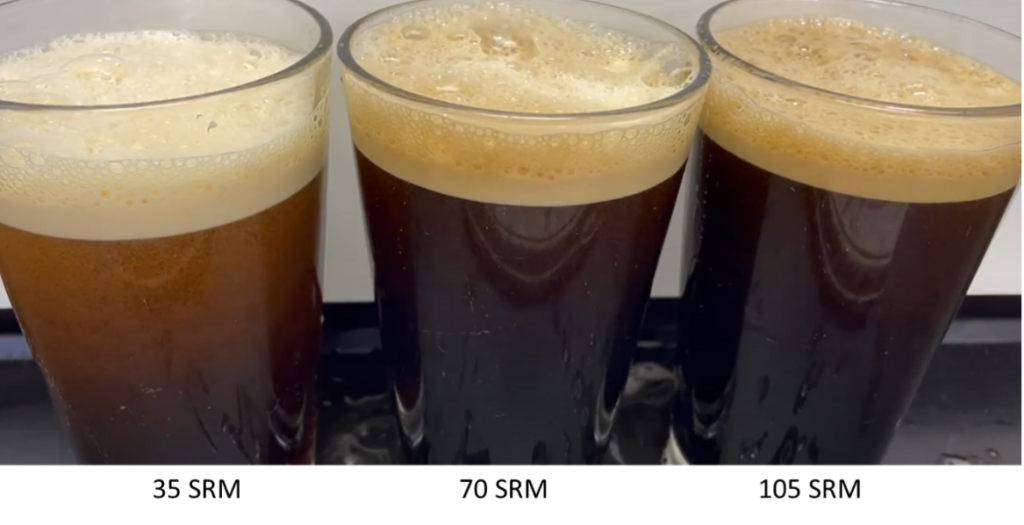 Finally, here are the same beers one minute after pour. All beers appear dark, but the foam in the lighter recipe exhibits a creamy color creating a more dramatic contrast with the liquid underneath.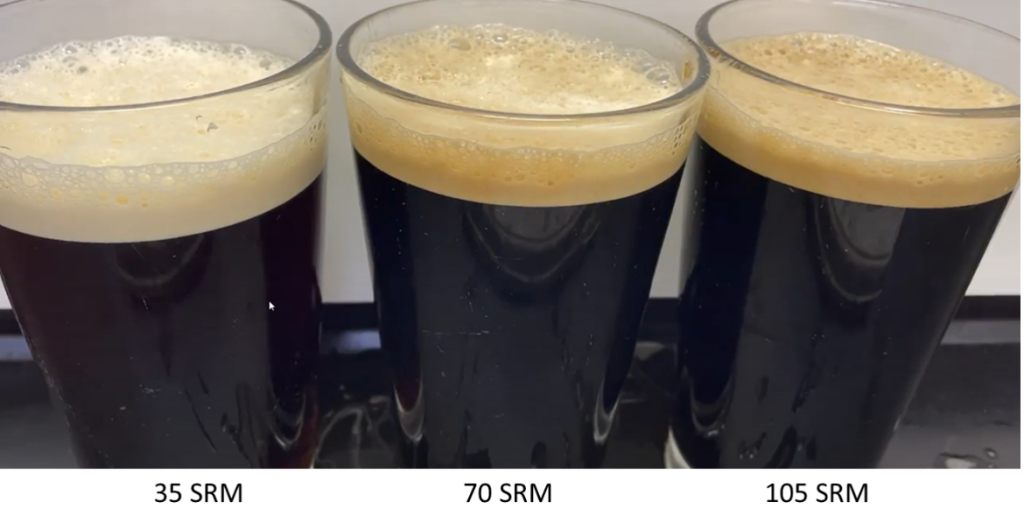 Conclusion
Based on our experimentation, it was determined the preferred visual would be best represented by a beer at 45 SRM, as pictured at the top of this article. It tasted delicious when poured at 45°F.