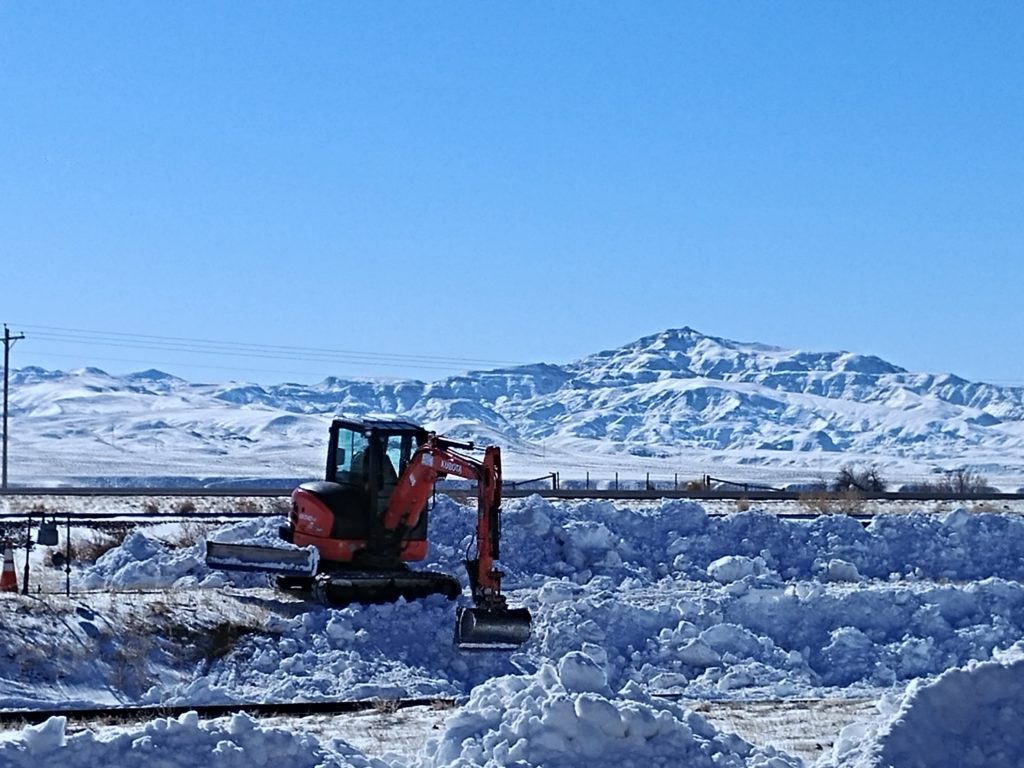 The average snowfall in the Bighorn Basin of Wyoming, where the Briess Barley Operations and Seed Plant are located, is 14 inches a year. This is considerably less than the national average where the average U.S. city gets about 26 inches of snowfall each year. On February 22, the Ralston crew saw upwards of 7 inches of snow and the snow drifts grew to be over 3 to 4 feet.
The snow can create challenges, especially for rail transportation. Mini-excavators are used to clear the tracks of snow. The Briess team worked around the clock to clear the tracks and facilities to ensure business went on as usual.
Significant snowfall in this region always raises the question will it affect planting season? Rick Redd, Regional Manager for the Wyoming Barley Operations explains:
"The snow will push back barley seeding a little bit, but not enough to hurt yields or quality. The last few years we have seen farmers planting in the Billings area just because Spring came earlier than normal, but normally Mid-March to Mid-April is the optimum time for planting.

I expect as the weather warms up we will see some planting by the 16th of March in the Powell/Ralston area. Billings, MT, may be a little later, as they had more snow than we did down in the Basin. That will be a bit of a change, as they usually plant at least a week earlier than WY on a normal year. This will mean that the Southern Montana barley and the Wyoming barley will all be coming to town about the same time, but we will be able to handle it."
Last year, the region saw a late planting season and fears of poor crop conditions began to temporarily circulate. However, once August rolled around, all the fears subsided with an excellent harvest that had strong yields and good looking crop that was bright, plump and disease free.  "It all works out, it just puts a little more pressure on the growers to 'get things done' when the weather warms up." Rick comments.