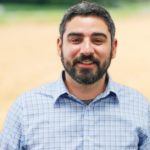 I am excited to announce that Brian Brandt has accepted our offer and joined the Briess Family as our new Brew West Division Manager. Brian will be responsible for managing and growing our business in Washington, Oregon, California, Nevada, Idaho and Montana.
Brian will work out of his home office in Seattle and can be contacted at 281-904-3332 or by emailing brian.brandt@briess.com
Brian comes to us after having a successful career with the Boston Beer Company rising to the National Accounts Manager for the West region. He has a passion for beer and the brewing industry, having cut his teeth with Two Brothers Brewing, and going onto complete the Siebel Institute 12 week brewing course. He is also a certified beer cicerone.
"I am very thrilled for this opportunity and jumping at the chance to get out in the trade and talk with brewers throughout my region. I have been a student and advocate of beer culture for over a decade. It is such a blessing to work in an industry with creative and passionate people and I am proud to become a member of the Briess family." – Brian
I'm sure you will be seeing and hearing from Brian soon, so please join me in welcoming him into the world of malt and brewing. I know he is also excited to start working with all the great breweries using our ingredients.
Best regards,