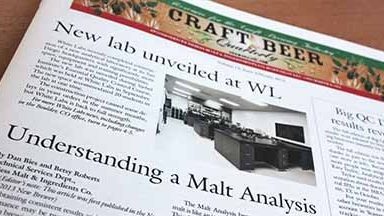 Whether you brew at home or commercially, understanding how to interpret and use the numbers on a Malt Analysis—aka Certificate of Analysis—can help you brew better. Dan Bies and Betsy Roberts of our Tech Services Dept offer a detailed explanation about understanding a malt analysis in the winter edition of Craft Beer Quarterly, just off the press and also posted on our website. Check out the newsletter in its entirety here, or read Dan's "Understanding a Malt Analysis" blog. The article first appeared in the Nov-Dec 2013 New Brewer Magazine.
In this issue we also tackle formulating an American-style Marzen/Oktoberfest, and make a case that Briess domestically-produced Munich-style Malts perform or outperform their imported counterparts even in the timeless German Lager. Try for yourself. Here are recipes for a 10bbl Marzen and a 5-gallon extract Munich Lager. (All-grain homebrewers may want to substitute the CBW® Munich LME with Goldpils® Vienna Malt, which is a superb example of this classic, authentic malt.) We think your customers and friends will thank you.
Craft Beer Quarterly is published through the combined efforts of Hopunion, White Labs and Briess to provide info and tips about brewing from an ingredient perspective. We hope you enjoy it. Cheers!