After learning I'd be making my first appearance at the AHA National Homebrewers Conference this year, there was only one logical place for me to prep for it. The Briess Pilot Brewery.
I was told Briess was featuring Dark Chocolate Malt, and could I brew a beer to serve at the Briess display in the Homebrew Expo.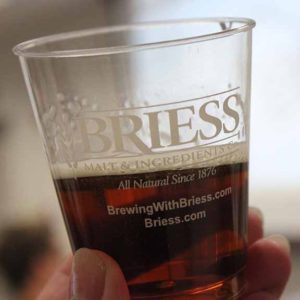 Coming up with a recipe would be easy. Briess Dark Chocolate Malt is a nice, pretty unique malt. It's remarkably smooth and rich coffee flavored, making it versatile considering it's been roasted to 420ºL. And there are plenty of styles it's useful in, but I wanted a beer that would let its full flavor shine through but not overpower the beer.
So I brewed a Dark Chocolate Ale that starts with some upfront hop bitterness followed by full, rich roasted coffee flavor and background sweetness, compliments of the caramel malts. The hops and roasted malt balance to make a surprisingly easy-drinking yet full flavored beer.
I hope you stop by the Briess display in the Homebrew Expo to taste it, and get your free 8 oz sample of Dark Chocolate Malt from me or other Briess staff who'll be there (coincindentally that's just enough for a 5-gal batch of this recipe).
Actually, you'll fill your own malt sample at the Briess display, using the empty plastic baggie tucked inside your attendee bag. We'll have plenty of 50-pounds bags of Dark Chocolate Malt and plenty of scoops. Not sure how that's going to work, but count me in.
Dan's Dark Chocolate Ale

Type: Ale
Recipe Type: All Grain
Recipe Contributed By: Dan Bies, Briess Technical Services Team
Original Gravity: 1.056
Final Gravity: 1.017
Alcohol by Volume: 5.2%
IBU: 23
Color: 50 SRM
| 5-Gal Batch | 1bbl Batch | Ingredient |
| --- | --- | --- |
| 9 lbs | 44 lbs | Briess Pale Ale Malt |
| 1 lb | 5 lbs | Briess Barley Flakes |
| 8 oz | 2.5 lbs | Briess Dark Chocolate Malt |
| 8 oz | 2.5 lbs | Briess Caramel Malt 30L |
| 8 oz | 2.5 lbs | Briess Caramel Malt 60L |
| 8 oz | 2.5 lbs | Briess Caramel Malt 120L |
| 1 oz | 6.2 oz | UK Challenger (5.7AA)—60 minute boil |
| 0.5 oz | 3.1 oz | UK Challenger (5.7AA)—15 minute boil |
| | | Wyeast 1275 Thames Valley Ale Yeast OR |
| | | White Labs WLP023 Burton Ale Yeast |