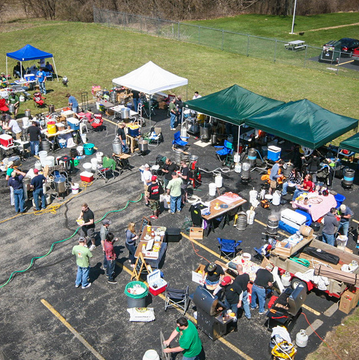 May is a great month to be a brewer. Gardens filled with interesting beer ingredients to play with showing signs of life, the weather (for us northerly folk) finally starts to warm up, and we get to celebrate National Homebrew Day with other brewers!
In 1988 congress designated May 7th as National Homebrew Day, and since then the American Homebrewers Association has organized a nationwide party, better known as Big Brew Day. Last year there were 484 brewing events worldwide. Over 11,000 people participated in events, and nearly 20,000 gallons of beer were brewed. Let's see if we can build on that and get even more people brewing this Saturday, May 7th. Take a look here for events near you.
The AHA has provided some official recipes (bottom of the page), but if you'd like another awesome option, Briess' Big Brew Spring Blonde is a recipe we'd recommend picking up ingredients for at your local homebrew shop.
Briess' Big Brew Spring Blonde (with Lemon Zest & Grains of Paradise) Recipe for 5 US gallons (19L)
OG: 1.053
FG: 1.012
ABV: 5.45%
IBU: 24
COLOR(SRM): 5
DESCRIPTION: Nothing's quite as good as a blonde in spring. This recipe includes optional lemon zest and grains of paradise for a hint of spice and 'zing.' A crowd pleaser, lawn mowin', fishin', baseball playin', back porch grillin' kind of beer.

BREWING PROCEDURES:
Bring 3 gallons of water to 152°F and steep grains for 30 minutes.
Remove grains and stir in 3 lb of CBW® Pilsen Light dry malt extract.
Bring water to a boil and add 1 oz of Liberty hops.
After 50 minutes, add 2 tsp of fresh lemon zest.
Boil 5 more minutes and add 4 grams of Grains of Paradise and 1oz of Cascade hops.
Boil 5 more minutes and turn off heat. Stir in 2 lb of CBW® Pilsen Light dry malt extract.
Cool beer to 70°F. Transfer to fermenter. Fill to 5 gallons with water.
Pitch two packs of Fermentis Safale S-04 Ale Yeast.
All-Grain Version : Omit 5lb CBW® Pilsen Light dry malt extract and mash White Wheat, Caramel 20L Malt, and Carapils® with 9 pounds of Briess Pilsen Malt at 152°F for 60 minutes in 3.7 gallons of water. Sparge with 4.1 gallons of water at 168°F. Continue at step 3 of 'Brewing Procedures" above.

Fermentation: 2 weeks at 67°F -72°F.
Fermentation Notes: Force carbonate or bottle condition with ¾ cup dissolved priming sugar for 3-4 weeks.