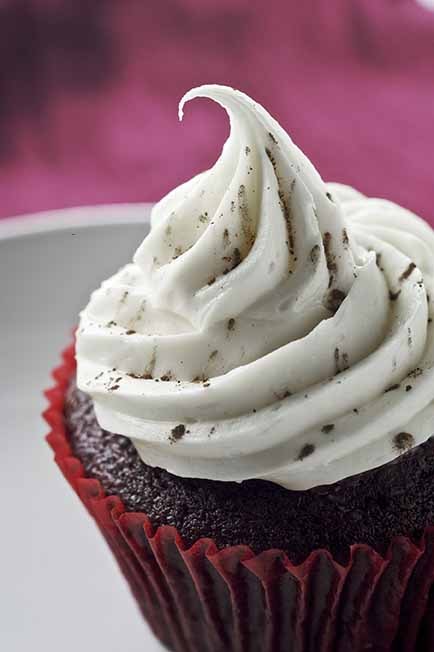 Want to make your Valentine really happy this year? Skip the box of chocolates, head to your stash of Chocolate Malt and whip up this batch of Malty Red Velvet Cupcakes.
The rich roasted malt adds an exciting punch of flavor to these delightful bites of red cake. Frosted with cream cheese or white frosting and paired with a Briess Chocolate Malt-infused beer like Brown, Sweet Stout or Porter, and you've got a Valentine's treat that's definitely not like a box of chocolates.
Malty Red Velvet Cupcakes
1/2 cup—Butter, Softened
1-1/2 cups—White Sugar
2—Large Eggs
1 cup—Buttermilk*
1 fluid ounce—Red Food Coloring
1 tsp—Vanilla Extract
1-1/2 tsp—Baking Soda
1 tbsp—Distilled White Vinegar
2 cups—All Purpose Flour
1/3 cup—Chocolate Malt (grind into a smooth flour in coffee grinder)
1 tsp—Salt
Directions
Preheat oven to 350ºF.
Grease two 12-cup muffin pans or line with 24 paper baking cups
In a large bowl, beat the butter and sugar with an electric mixer until light and fluffy.
Mix in the eggs, buttermilk, red food coloring and vanilla.
Stir in the baking soda and vinegar.
Combine the flour, Chocolate Malt flour and salt.
Add the dry ingredients to the liquid mixture and stir just until blended.
Spoon the batter into the prepared muffin pans.
Bake in preheated oven until the tops spring back when lightly pressed, 20-25 minutes.
Cool and frost
* Substitute buttermilk with 1 cup milk and 1 tbsp lemon, stir and let stand 5-10 minutes.