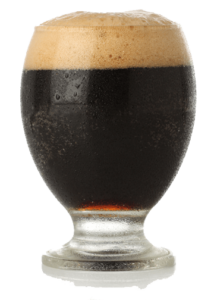 This indulgent porter takes its name from one of our signature products, Dark Chocolate Malt. This malt is distinguished from other chocolate malts by surprisingly smooth yet deep roasted flavor, despite being intensely roasted to 420L.  At that lovibond, most dark roasted barley malts develop more intense characteristic bitterness and astringency notes than Dark Chocolate Malt.
We employ a proprietary roasting recipe which tames those characteristics and results in a rich, coffee, mocha-flavored malt. It's popular with craft brewers, who use it in all styles of beer. As to be expected, it goes into lots of porters, stouts and other dark beers. But it's also used for color and a touch of roasted flavor in lighter beer styles, too.
This extract-grain recipe benefits from the flavors of Dark Chocolate and other specialty whole kernel malts through proper milling and steeping techniques. For a printer-friendly version of the recipe, visit the Briess Recipe Database. If your LHBS doesn't have Briess Dark Chocolate malt, ask them to order some from their distributor.
Dark Chocolate Porter

Type: Ale
Style: Porter
Batch Size: 5 gallons
Recipe Type: Extract with grain
Recipe Contributed By: Briess Technical Services Team
Ingredients
7 lbs—Briess CBW® Golden Light LME
1 lb—Briess Caramel Malt 60L
8 oz—Briess Chocolate Malt
8 oz—Briess Dark Chocolate Malt
4 oz—Briess Carapils® Malt
8 oz—Cocoa Powder—End of boil
1 tsp—Irish Moss—Boil 15 minutes
1.5 oz—Fuggles Hops (5% AA)—Boil 45 minutes
1 vial—WLP026 Premium Bitter
Procedures
Perform mini-mash with 4 gallons of water and grains
Steep at 152-158ºF for 30 minutes
Add extract
Bring to a boil
Add bittering hops and continue to boil
Add Irish Moss and cocoa powder as indicated
Remove from heat
Cool to 72ºF
Transfer to primary fermenter
Fill to desired level with cold water
Oxygenate and pitch yeast
Fermentation
Primary Fermentation: 10 days at 65ºF
Secondary Fermentation: 4 days at 35ºF
Fermentation Notes: Bottle condition or force carbonate
Stats
Original Gravity: 1.063
Final Gravity: 1.018
Alcohol by Weight: 4.7%
Alcohol by Volume: 5.9%
IBU: 30
Color: 50+ SRM