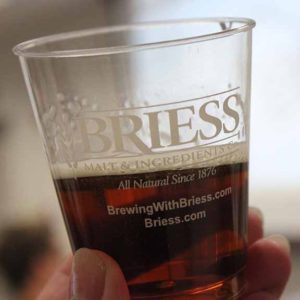 Mesquite Smoked Malt may be the newest malt from Briess, but recently I was looking through the Briess Recipe Database and stumbled across this recipe by Charlie Papazian. Cherry Wood Smoked Malt was the first smoked malt Briess released, and it is nice not only in Scottish Ales, Smoked styles and Porters, but also adds complexity and depth to lighter flavored beers like Oktoberfest when used in smaller quantities.
That's not what Charlie does in this recipe. When the malt was released, recommended usage rate was 60% or less. Charlie took that as a challenge and that's when he created this recipe.   Click here for a printer-friendly version plus an accounting of how Rogerfest Cherry Wood Lager got its name.
Rogerfest Cherrywood Lager
Type: Lager
Style: Smoked
Batch Size: 5 gallons
Recipe Type: All Grain
Recipe Contributed By: Charlie Papazian, president, Brewers Association. Recipe featured in Sept/Oct 2009 issue of Zymurgy Magazine and will appear in Charlie's new forthcoming book, Homebrewers Companion, 2nd Edition (2014).
Ingredients
6.5 lbs Briess Cherry Wood Smoked Malt
2.0 lbs Briess Bonlander® Munich Malt 10L
12 oz Briess Aromatic Malt 20L
4 oz Sour Malt
12 oz Honey Malt
8 oz Briess Caramel Munich Malt 60L
0.75 oz Mt. Hood hops (5% AA) – 60 minutes
1 oz German Hallertauer hops (4.3% AA) – 20 minute boil
0.5 oz French Strisselspalt hop pellets – 1 minute steep
0.5 oz Mt. Hood hop pellets – 1 minute boil
0.25 oz Crystal hop pellets – dry hop
0.25 oz French Strisselspalt hop pellets – dry hop
0.25 tsp Powdered Irish Moss
Cry Havoc lager yeast
0.75 cup corn sugar for priming bottles OR
0.33 cup Corn Sugar for kegging
Procedures
A step infusion mash is employed to mash the grains. Add 11 quarts of 140ºF water to the crushed grain, stir, stabilize and hold the temperature at 132ºF for 30 minutes. Add 5.5 quarts of boiling water, bring temperature up to 155ºF and hold for about 30 minutes. Raise temperature to 167ºF, lauter and sparge with 3.5 gallons of water. Collect about 6 gallons of runoff. Add 60-minute hops and bring to a full and vigorous boil.
The total boil time will be 60 minutes. When 20 minutes remain, add the 20-minute hops. When 10 minutes remain, add the Irish Moss. When 1 minute remains, add the 1-minute hops. After a total wort boil of 60 minutes, off the heat and place the pot (with cover on) in a running cold-water bath for 30 minutes. Continue to chill in the immersion or use other methods to chill your wort. Strain the wort into a sanitized fermenter. Bring the total volume to 5.5 gallons with additional cold water if necessary. Aerate the wort very well.
Pitch the yeast when wort temperature is about 70ºF.
Fermentation
Primary Fermentation: 55ºF for one week
Secondary Fermentation: 35-45ºF for 3-6 weeks
Prime with sugar and bottle or keg when complete
Stats
Original Gravity: 1.056
Final Gravity: 1.018
Alcohol by Volume: 5.0%
IBU: About 24
Color: Approximately 25 SRM