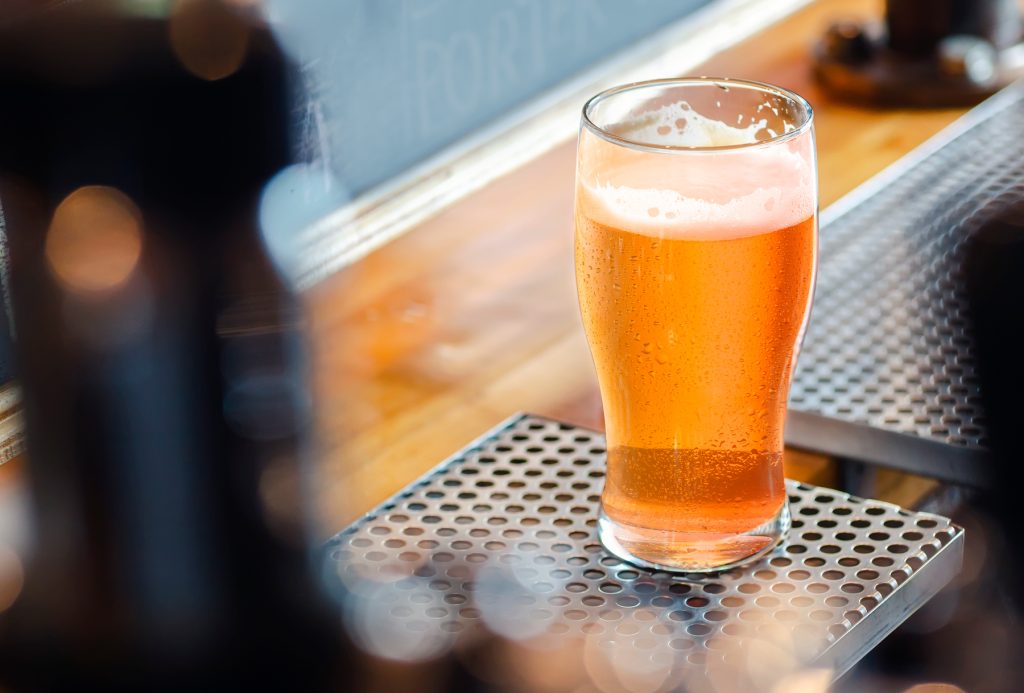 Our pilot brewery is part brewery, part food science plant, and part studio. We regularly work on projects that expand the boundaries of the art and science of beer. Occasionally the pilot brewery is a nursery and thus gives birth to a new beer style.
New beer styles can come from a variety of inspirations. Sometimes new ingredients can help facilitate new styles. We once made a beer without water. Mashing, sparging, and any liquid in the process used exclusively tree sap. We called the beer "MayPils", and it was a delightful beer in the "Treepilsner" style.
Styles can come from new brewing techniques. Desiring maximum fresh hop aroma, we recently used new techniques to create the "bottle hopped" IPA style. We designed a special cork with a porous chamber that allowed the beer to age on the hops when stored upside down. Prior to serving, the bottle is turned upright and the "bottle hops" are ejected with the cork. The "Mark V" version of our bottle hopped IPA had 5 grams of hops per bottle and had a wonderful hop aroma and flavor. We did another variant on this style by doing the traditional champagne method on beer bottle conditioned with micro-ground hops.
Styles can come from consumer demand or trends. There was a time when dark versions of existing lighter styles started to be en vogue. During this time the Black IPA or Cascadian IPA was created. We took that trend one step further and created the world's first Black White beer for our annual Holiday beer.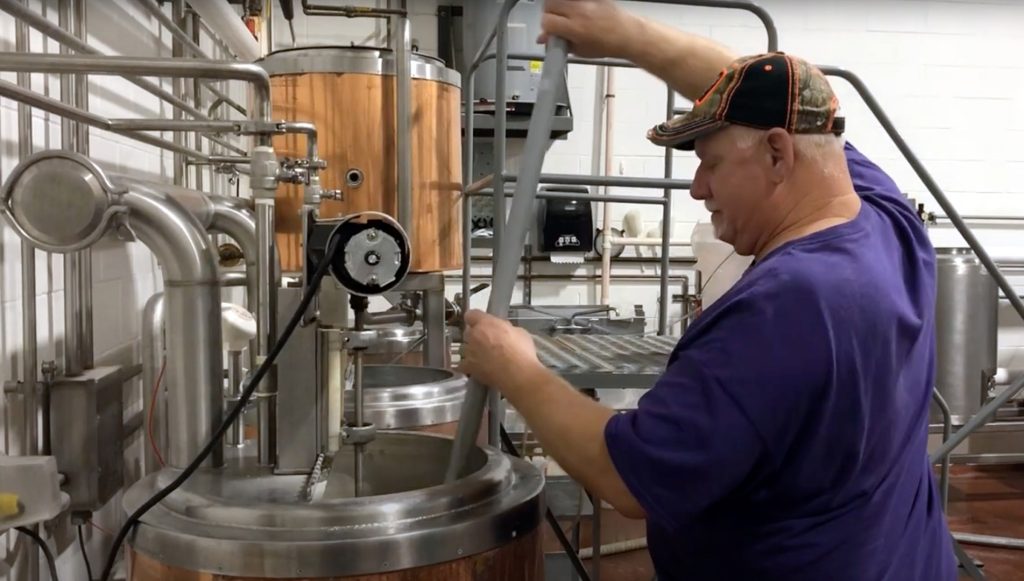 The Session Doppelbock we brewed for the 2021 Holiday season had all the above influences as well as another, which was necessity. With their immense malt bill, low hopping, and long aging, Doppelbocks could be thought of as a malt "tribute style" since malt is the star of the show. We wanted to brew a malty Doppelbock as a special nod to the sunset of malting at Chilton Malthouse, but we only had four months, not long enough to age to smoothness this beer style that can be 7-10% alcohol. We needed something that could still have all the malt flavor, mouthfeel, and richness of a Doppelbock, but faster. We also wanted a beer with slightly lower alcohol content. We wanted a Session Doppelbock.
Session beers, that is lower alcohol versions of stronger beers, are very much on-trend these days.
Cold Brewing is a technique that allows for flavor, color, nutrients, and foam positive components of malt to be extracted without getting the starchy or sugary extract, a valuable technique for lower alcohol and no alcohol brewing.
We started the formulation with this technique and then used our MaltGems®, an innovative premium milled new ingredient that gives exceptionally smooth flavor. We also used Bonlander® Munich malt for some extra malt punch.
Recipe details and production techniques are provided below.
Having the formulation worked out, we went to work on the beer name and label. The suffix "-ator" is traditionally applied to Doppelbock and we had the perfect fit. The Altenator is a piece of equipment used in the Chilton Malthouse to remove (vacuum) unwanted malt from a grain silo, the perfect name for a beer with unwanted parts of the malt removed. The equipment was named after Bruce Alten, a 43-year veteran of the malthouse. To make the beer extra special we had Bruce help with the brewing and featured him and the Altenator on the label, which also included a video.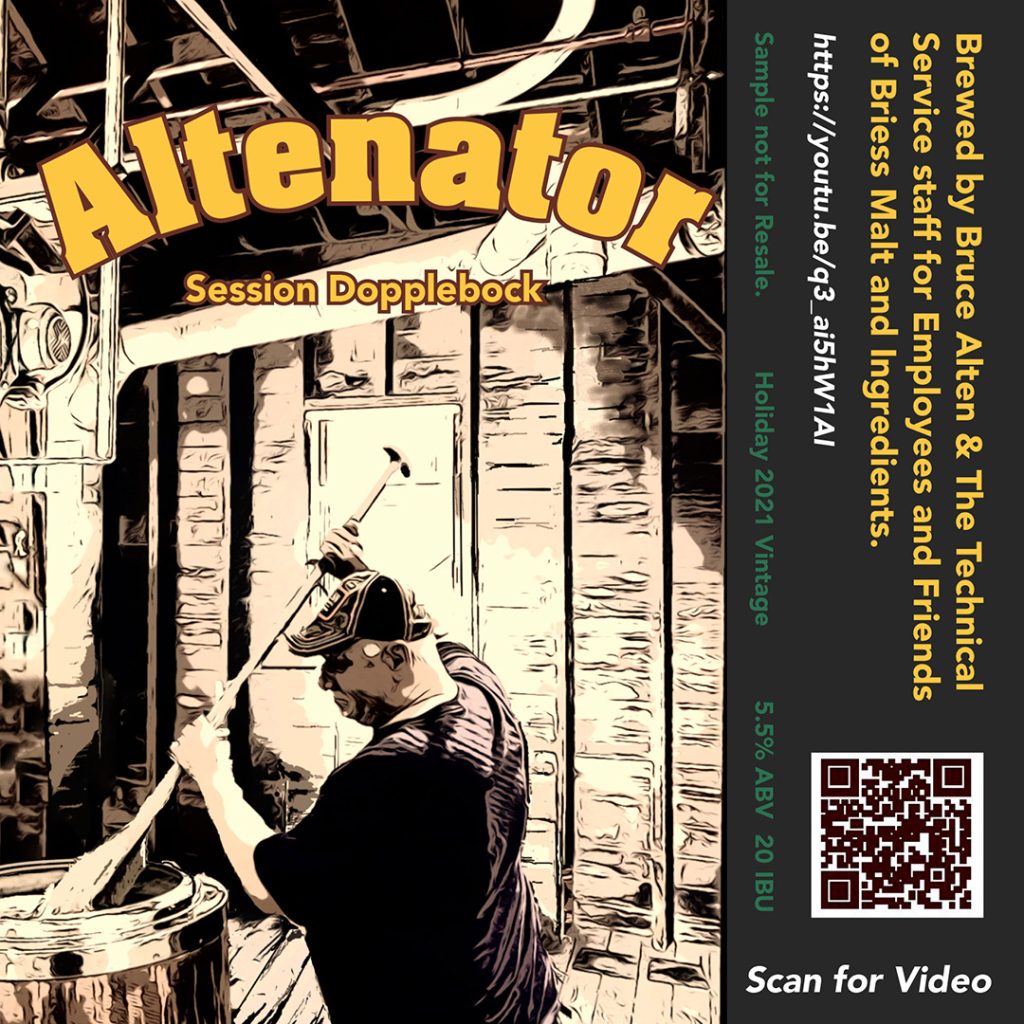 The Altenator Session Doppelbock turned out great, with a rich thick foam and a beautiful tawny orange color that said, "lots of malt". With aromas of breadcrust, cracker, and honey the lingering maltiness carried through the flavor, balanced by low levels of fruity esters and hops. A true malt-tribute beer.
Altenator Session Doppelbock
Recipe and stats (for one barrel)
Malt:
(Cold brew portion)
5 lbs. Synergy Select MaltGems®
10 lbs. Bonlander® Munich malt
(Hot portion)
65 lbs. Synergy Select MaltGems®
Hops:
Cold brew portion of malt
Add malt to water (ours was ~50°F), around 4:1 liquid/grist
Allow to react for 90 minutes with intermittent agitation
Lauter and sparge with about 4 more parts water
Hot brew remaining malt
Add water to cold-extracted wort to obtain volume desired for mash-in of hot side brewing
Bring to 120°F, add grain
Mix to hydrate
Ramp to 144°F and hold for 45 minutes
Ramp to 157°F and hold for 30 minutes
Mash off at 170°F
Lauter
Add Hops to kettle and boil for 60 minutes
Cool/aerate to 52°F and pitch German bock lager (like WLP 833)
Diacetyl rest at 60°F at around 1.020
Transfer off yeast once terminal, lager for 6-8 weeks
Carbonate to 2.7 volumes
O.G. 1.057
F.G. 1.015
A.B.V. 5.5%
IBU 16
SRM 7